The search-and-rescue ship stranded in the Mediterranean Sea since Sunday began its roughly 800-mile journey to Spain on Tuesday evening after transferring more than 500 rescued migrants to Italian Coast Guard and naval ships.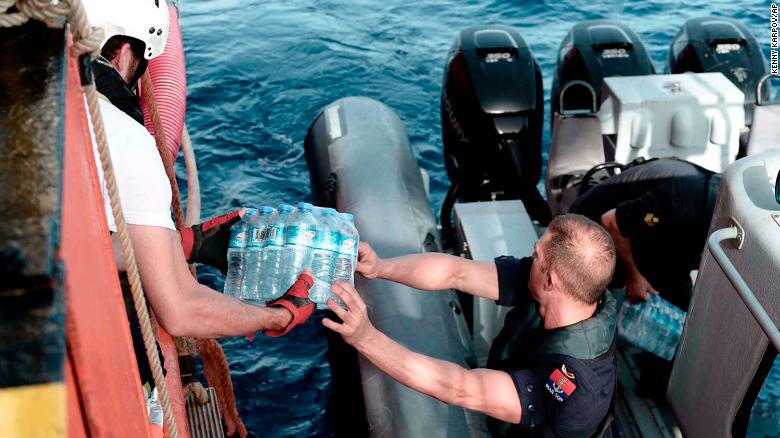 According to aid organization SOS Méditerranée, 250 people were transferred to the Italian Navy's Orione and a further 274 to the Coast Guard's Dattilo ship Tuesday. The Aquarius — which had been stranded between Malta and the Italian island of Sicily since Sunday — now has just 106 survivors on board.
The move was part of an Italian Maritime Rescue Coordination Center (MRCC) plan to transfer hundreds of the 630 migrants to two smaller vessels, in a bid to ease pressure on the overcrowded Aquarius.
All three ships will now proceed to Valencia, Spain, after the Spanish government on Monday agreed to take in the migrants who were rescued over the weekend.
SOS originally said 629 people had been rescued, but revised that figure to 630 on Tuesday following a recount during the transfers.
The Aquarius, which was carrying more than 120 unaccompanied minors and six pregnant women, was left stranded in the Mediterranean after Italy's hardline interior minister and leader of the anti-immigration League party refused to allow it to dock on Sunday.
Aid organizations, including Doctors Without Borders (MSF) and SOS Méditerranée, which operate the rescue ship Aquarius, have been critical of the Italian MRCC plan, warning that the "already exhausted" migrants would be forced to spend four more days at sea.
"The better option would be to disembark the rescued people in the nearest port after which they can be transferred to Spain or other safe countries for further care and legal processing," MSF said in a tweet Tuesday.